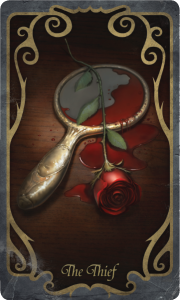 The Thief is one of the five Fate Cards in Fable II, given by Theresa to the Hero of Bowerstone. This one refers to Reaver, the Hero of Skill.
Contents of Card
Edit
Use the card to listen to what Theresa has to say about it. The Thief is the most mysterious and contradictory of figures. It is the synthesis of beauty and cruelty, vivacity and decay, the ephemeral and the eternal. The mirror represents vanity; the rose, hedonism. And the blood is the violence that binds them together. The Thief is age, which robs us of our strength and looks. It is death, which robs us of our life. It is the worst in all of us. It is what we must all fear.
The Thief. This Hero harbours a soul without a glimmer of light. I see choked weeds and water. He lies just out of reach.
---
Community content is available under
CC-BY-SA
unless otherwise noted.