The Pangs of Sunset is a book collected as part of the Brightwall Academy quest The Pen is Mightier... in Fable III. It was written by Ilona Pureheart and seems to be a 'dirty' novel based on the Heroes who accompanied the Hero of Bowerstone on their quest for revenge against Lucien. However, the novel goes in a more fictional and sexual direction.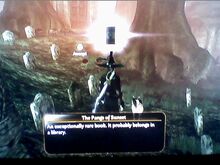 After returning seventeen rare books to the Academy, Samuel will ask the Hero to retrieve this book, which is buried in the author's grave in Mourningwood, in the large open cemetery near the statue of the soldier. The dog will lead you to a dig spot among the headstones.
Description
Edit
Ilona Pureheart:
Theresa had said 'take my hand.' Hammer had done as she was told, and at the touch of the warm flesh she felt a surge within her. A feeling at first that she couldn't identify- it was scary, but it was arousing too. She'd had thoughts of women before but never acted on them. Now it was all she could think about- it made her excited; as excited she had been the night she secretly spied on Garth and Reaver. They were so forceful with each other, and yet so tenderly yielding. The memory of that night brought a sickeningly delicious pit to her stomach. Her pulse quickened, and she let her robe slip from her shoulders and stepped into the warm bath, thinking of the two men. She began to recreate that night in her mind.
Next Chapter: Dark Wizard, Passionate Rogue.
The book is a mockery of 'adult fan fiction' seen often on the internet.
The book misquotes Theresa when she takes Hammer's hand. What she actually says, in Fable II, is 'Then come with me, Sister Hannah.'
---
Community content is available under
CC-BY-SA
unless otherwise noted.