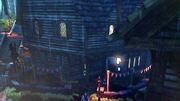 The Foaming Jugs is a tavern located in Westcliff after the completion of Westcliff Development. It replaces The Bloody Stump. The pub game Fortune's Tower can be played here, and a bartender job is occasionally available.
On the right side you can find a female prostitute standing next to a doorway which leads up to a second floor. The second floor houses several beds with a single chest at the foot of each.
Stats
[
]
Base value: 36000 gold
Stars:
Address: 1 Crucible Walk, Westcliff
History: Visitors to Westcliff can stop here for some refreshments before taking in a Crucible show.
Trivia
[
]
Interestingly, the tavern is unlike all the other taverns in the game in the sense that it cannot be fast traveled to.