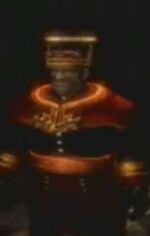 The Royal Suit is a set of clothing added in the See The Future DLC for Fable II. It is automatically obtained after viewing The Vision with Theresa in the Tattered Spire.
The entire Royal Suit consists of a pair of boots, trousers, a long-sleeve shirt with a cape attached, and a crown. The boots and trousers resemble those of the Welley's Soldier Outfit that you can purchase from Murgo in See the Future. The cape is red and cannot be dyed, nor can the crown. The weapon that corresponds with this outfit is the Royal Sceptre, a blunt weapon with four augmentation slots that can be obtained from the Colosseum.
Who could fail to bow before you whilst wearing this regal outfit? Perhaps one day you will earn the office to go with the clothes.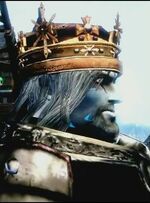 Headgear: Royal Crown
It irradiates power and presence, and you can almost feel the weight of history in its dense, beautiful metal.
Coat: Royal Robe
It fits perfectly, as if a skilled tailor has made it especially for you.
Lower Body: Royal Trousers
Specially designed to provide maximum comfort for regal rear ends.
Feet: Royal Boots
No monarch can adequately tread on his or her subjects without the proper footwear. Each of these boots have a heel fit for a king.
---
Community content is available under
CC-BY-SA
unless otherwise noted.