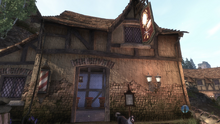 Moustache Mansions is a stylist shop in Fable III that is located in Brightwall Village. It is situated just across the stream from the main square of the village.
Moustache Mansions plays an important part in the early main quest, In Wolf's Clothing, where the Hero is required to purchase two items in the shop to complete their disguise and infiltrate the Mercenary Camp. While In Wolf's Clothing is active, only the quest related items are available for purchase in the shop's inventory: the Mercenary Beard and the Mercenary Right Arm Tattoo at the cost of 500 gold each. After completion of the quest, the inventory returns to normal.
Base value: 15,410 gold
Base income: 462 gold,[1].
Location: Brightwall Village. Just across the bridge from the main square.
Inventory
Edit
The shop's standard inventory* consists of the following items:
Hairstyles
Facial Hairstyles
Makeup
*NOTE: If you purchase all the items in the inventory and go to the Road to Rule to reload the area, different items will appear at random in the inventory.
References
Edit
Community content is available under
CC-BY-SA
unless otherwise noted.