Raise a Floppa - The Loop
Play Sound
Mourningwood is a region in Fable III. It is a marshy region, and appears to be the new cemetery for the city of Bowerstone. Major features include an eco-warrior settlement, Mourningwood Fort, a Demon Door, the Dark Sanctum, and the entrance to Sunset House. It is inhabited by Hobbes and Hollow Men.
Law and Economy
[
]
Mourningwood is a wilderness area, and so does not have a guard patrol. The Swift Brigade of the Royal Army are initially stationed at Mourningwood Fort, but vacate the post in short order. A few shops can be found in the eco-village which serve to bring income into the area through passing trade.
Points of Interest
[
]
Mourningwood Fort
[
]
Main article: Mourningwood Fort
Mourningwood Fort is an outpost for King Logan's army found in the eastern part of the region. The soldiers are led by Major Swift and his second-in-command, Ben Finn. During the main story line, the Hero of Brightwall is required to gain the loyalty of Swift and his men. After the Hero aids in the defence of the fort from the Hollow Men that plague the region, Swift, a close friend of Walter Beck, agrees to fight with him/her so long as the Hero promises to restore the old, more honourable guard.
The Hero can return to the fort, after meeting with Page in Bowerstone Industrial, to find it deserted and up for sale. If the Hero buys the fort, they receive a letter from Major Swift stating that the Swift Brigade withdrew after their victory over the Hollow hordes. Buying the fort also allows access to the mortar mini-game. Like the mortar mission in the main storyline, this mini-game involves racking up points by destroying waves of Hollow Men attackers. It uses a point system similar to that of the Shooting Range in Fable II, with 2000 points earning the grand prize (a legendary weapon).
Eco-Village
[
]
"One of those self-sufficient communities. They hold hands, eat fruit, and talk about peace a lot. It's a real party town."

— Walter Beck
Eco-Warriors inhabit the western part of the region. Their settlement is near the end of the Bowerstone sewer outlet leading to Bowerstone Industrial, and much of the city's sewage is dumped there by Reaver Industries. The village has two houses and three shops surrounding a central tree. The Mellow Emporium and Organic Ink are closest to the Bowerstone sewer, and Peas and Love is located next to a small platform where a Blacksmith job can be taken. A third house is situated in the back corner of the village next to a ruined wall.
Cemetery
[
]
Mourningwood is the region that contains the greatest amount of gravestones of any Fable game, with 120 located at the cemetery and four other at the Fort.
Left Section
[
]
Christopher Kembry. 'Rgar damn wizard! Twenty gold pieces and I'm ruined on fairy dust.'
Here lies David Carbins, who was trigger happy. We killed him off, now everyone's happy.
Craig Gilbert-Wood. Swam out to sea. Found nothing but a tragic death.
Dave Gabriel. Not even his mum could clean up this mess.
Here lies Jamie Allen. Prim-slapped by the grim reaper.
Gary Oliver. Couldn't get a grip. His shoes made him slip. Died and broke his hip.
Giro Maloriello. Shouldn't have questioned his intestinal fortitude.
Gareth Bourn. Literally a father to all the children of the parish.
Wayne Marx. Constantly pointed out the kingdom's failings. Died shortly after the king had him failed.
James Thomas. Had an answer for everything. Except death.
Kristian Robert Wilkins. A soldier of the old guard. Crafted War in two worlds. Never returned from one of them.
Mark Maniscalchi. Holds world record for holding his breath underground. Still going strong.
Matthew Ash. Couldn't front the crash. Got turned to ash.
Nathan Smethurst. Broke the world for the third time. In return, the world broke his spine.
Neil Barrett. His wife called him fat. She felt no remorse when he fell in a hole and went 'splat'.
Peter Danzan-Villiers. We told him to eat that funny-shaped turnip.
Richard Spiers. Champion against hollow men. Triumphant against hobbes. Paused too long before he popped his clogs.
Ryan Harris. Got into a street fight with an unhealthy rabbit.
Tom Hyde. Turned out the gun was loaded after all.
Simon Taylor. Once a landscape gardener. Now a garden landscape.
Rob Millington. The eternal optimist. Found frowned in a half-full bath.
Robert Leake. Held the wrong hand.
Paul Smith. Fell down a rabbit hole. Lost. Presumed dead.
Paul Hann. Drowned trying to chase the dragon.
Matthew Humphrey. Should not have bought two tickets to the gun show.
Matt Battistone. The stallion is finally out for the count.
Mark Church would have gotten away with it too, if it weren't for that meddling Hero.
Luke Borrett. A man who lived his life in fiction. He died in Albion. Funny that.
John Hicks. Went into the long grass.
Middle Section
[
]
Between the two paths heading towards the Fort
Chris Gibson. Got in Jasper's way.
Chris Povey. Lost a sword fight whilst wearing a sock.
Adrian Bennett. He always wanted to live underground. At least his dream came true for a couple of hours.
Adam Stone. Loved his cat more than life itself. Literally.
Aaron Blackwell. A nice guy who loved to kick people in the face. Consequently barred from paradise.
Aaron Austen. Was a test subject in a human barbecue.
Thomas O'Brien. Still owes me money.
Alun Williams. Or was it Steve?
Andy Gay. Crushed by a Demon Door. Last words: 'I swear those things just spring up over night.'
Carrie-Ann Williams. Her final cake has been baked.
Right Section
[
]
Kiernan Sleep. Dare you awaken him from his shadowy slumber?
Gilles Anderson. Drowned in his own sorrows.
Mortimer Pain. Hunted down by a famous killer.
Adam Sibbick. 'Became sick when I disappeared with two bees.'
Here lies Matt Wikes, apprentice balverine tamer.
Jeff Linsenbigler. Missed the chicken and kicked the bucket.
Louise Murray. Led her troops through the three great wars pf Albion. They really did it.
Patrick Connor. Found drowned. Water way to go.
Glen Watts. The world is a less cynical place without him.
Adonis Stevenson. Even his mighty arsenal couldn't keep death at bay.
Sophie Lambrakis. Washed away by heavy rain.
Jon Morris. Told us he was sick. We didn't believe him.
Mark Atkinson. Fought the law. The law won.
Simon Mann. Wisped off.
Paul Evans. Now works for the people upstairs.
Andy Bass. Bought it. For Cash.
Mike Ducker. Never has a spoonerism been so apt, nor caused so much embarrassment, fear and regret.
Jon Askew. Has made his last cuppa.
Stephanie Fort. Skinned to death.
Steinn Steinsen. When the cat is outside, the doozers do be dancing.
Here lyes Joe Hegarty. Lived a life of syn and felt diskonected from his piers.
Jordan Stock. Killed by the out-of-tune lutes at his expensive wedding.
Kristofor Mellroth. Went to Brightwall, bought the farm.
Andrea Roberts. Found a hole and filled it herself.
Kristen Quebe. Her days did not treat her well.
James Bayley. Worm buffet. All you can eat.
Cédric Hauteville. Went home early.
Ed You. Dying for you to read this.
Rich Bryant. Came from an empire across the sea and was destroyed.
Adam Philp. 'The only good lute player is a dead lute player.'
Christian Bense. Just couldn't be arsed.
Chris Carr. Crazed by cacophonic chattering of criminal chickens.
Dominik Gotojuch. Followed a trail of breadcrumbs.
Sam Swain. A fabled inventor.
Tamas Ovari. Missing in a play.
Jim Vale. A massive loss for Albion's tailoring community.
End Part
[
]
Between the road towards the Ossuary and the Road heading to the Eco Village
Andrew Kennedy. A conman in life, here he lies for the last time.
Richard Mulder. Coffee set his mind in motion.
Chris Rivera. One street fight he couldn't win.
Erik Pettersson. Ran out of voices.
Keith Judge. 'Who ate all the cake?'
Roy Herrod. Didn't live long enough to get a creative epitaph.
Kostas Zarifis. Never passed in life. Now he's passed away.
Liam Hill. Killed during interplanar transference.
Morten Pedersen. Nobody called him 'chicken'.
Patrick Martin. Fell on his own sword.
Andrew Martin. Out for lunch. Will be back by dawn.
Louis Constant. Evidently a misnomer.
In loving memory of...er...thingy. That guy! You know?!
Andrewth Morley. Less famous brother of the playwright Phillipth.
Here sleeps Sam Van Tilburgh. Suffered from terminal diary-ea.
Here lie buried Logic, Sanity, and Reason, They will all be sorely missed.
Your corpse here. Call Digger Pete today!
Corporal Punishment. Here lie the bones of Francis Punishment.
Flatulent Jim. His life was a gas.
Please don't give me a 'funny' inscription.
Florence. Killed by rabid nightingales.
It wasn't the cough that carried ne off, but the coffin they carried me off in.
Ilona Pureheart. This is my grave. Please leave feedback.
Here lie the bones of little John. His horse stopped but he went on.
Dr Horatio Slacks. Did not heed his own advice.
Konan Wiggledung. Was too unsafe for his own good.
Very slim man WLTM lively female for cozy nights in. My coffin.
Dampy. His heart stopped pounding.
Charles Griffiths. He faked his death. He tried to flee. But Reaver would not let him be.
My Quest was to design the perfect killing machine. Unfortunately, I succeeded.
Marcin Janiz... Marcin Janiszes... Marcin Janiszewsc... Oh, bugger it: Marcin is dead.
Here lies the brother of the notorious Jack. Fred of Blades.
Guy Incognito. Wanted to be buried in an unmarked grave. None available.
Here lie some bits of Billy Brunts. Rests in pieces.
Inny Esther. Reached his final goal. Gave us a star. Will be remembered always.
Ignatius Boatload. Really did take leave of the world.
Captain Arkwright. All his training and all his skill couldn't save him.
Montgomery Array. Picked his own adventure. Turned to the wrong page.
Vivian Quicksand. Found the secret to immortality. Misplaced it.
Lewis Harvey. Headed East, but never made it far enough from West.
Kalev Tait. Carrion eating.
James Benson. Beaten to death by a bo staff-wielding bear.
Dan Gray. Borrowed from a boy and his dog. Returned a shattered corpse.
In loving memory of Arnold. He won't be back.
Andrzej Zamoyski. 'It's dangerous to go alone. Take this.'
The Ossuary
[
]
The Ossuary is an extension of the Mourningwood cemetery. Located beyond a crypt at the end of a side-path leading from the main cemetery area, it is the central location of Gone But Not Forgotten.
The Dark Sanctum
[
]
The Dark Sanctum lies beyond a firey barrier near the fort. Speak to Lesley to find out how to gain access.
Sunset House
[
]
The entrance to Sunset House lies near the trenches. From the village, head through the marsh and keep to the right as you pass through the trenches. From the fort, head through the cemetery, past the turning to the Ossuary, until the trenches appear on your right. Sunset House lies beyond the iron gate that sits just away from the main path.
Future of the Eco-Village
[
]
WARNING: This section or article may contain spoilers!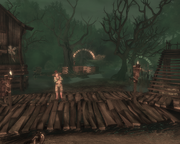 Depending on the Hero's decisions as ruler of Albion, Reaver Industries begins either dumping all of the sewage at the village, or ceases the dumping completely, in favour of a recycling facility. If the decision is made to begin dumping the entirety of Bowerstone's waste into Mourningwood, the camp becomes flooded with ankle-deep sewage and a putrid green fog hangs in the air, and Reaver refers to it as the 'Mourningwood Sewer Reservoir'.
Mourningwood Demon Door
[
]
This Demon Door, located just east of the eco-village, complains that the world is eternally infested with war. He claims that the only way to end the cycle is to create an all-powerful weapon. To open this door, the Hero must pull out a Level 5 Melee or Ranged weapon in front of the Demon Door.
Inside the door is Planet One, a desolate area with a single chest and a strange machine. The chest contains the full Military Suit. The Hero is able to interact with the machine; doing so changes the planet's colour scheme.
Trivia
[
]
The fort looks surprisingly similar to the Temple of Shadows in Rookridge.
Mourningwood is a double entendre, one quest literally plays out the name as per its spelling, involving "Mourning" in the "wood" where the graveyard is located.
Most of the graves inscriptions at the cemetery are easter eggs featurng the names of the developers and other personal that worked on Fable III.
There is a grave marker, near the lone statue, that reads: "Andrzej Zamoyski. 'It's dangerous to go alone. Take this.'" There is also a dig spot at this grave that commonly has a toy sword buried there. This is a reference to the Zelda series of games where an old sage says those words and offers you a sword.
The grave "Arnold. He won't be back!" is a direct reference to Arnold Schwarzenegger's remarkable quote in the movie The Terminator.
The grave of Fred of Blades is a direct reference to the novel Fable: Jack of Blades.
Reported Bugs
[
]
Some players have reported that accepting the quest to kill Rhys has prevented them from using weapons or magic within Mourningwood.
Some people entering Mourningwood after completing the main storyline report the inability to exit the Sanctuary while in Mourningwood.
Gallery
[
]
---