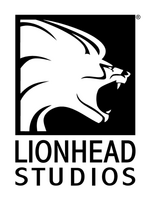 Lionhead Studios is a video game development company that was established in the United Kingdom in 1997 by Peter Molyneux. They have created many successful video games, including the Fable series of games. In April of 2006 Lionhead Studios was purchased by Microsoft Game Studios. On 7 March 2012, Peter Molyneux announced he was leaving Lionhead to work at an independent developer. Initial reports [1] suggested Lionhead co-founder Mark Webley would be taking over as studio head, however more recent interviews have revealed that Gary Carr has taken over as Creative Director [2].
List of Games Created
Black & White
Black & White 2
Black & White 2:Battle of the Gods
The Movies
The Movies:Stunts & Effects
Fable II Pub Games (supervised, not developed by)
Fable: The Journey (upcoming)
In-Game References
In Fable II, Lionhead made a few references to themselves in the game.
References
External links
Community content is available under
CC-BY-SA
unless otherwise noted.