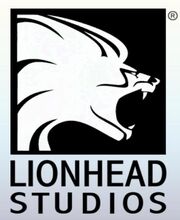 Lionhead Studios is a video game development company that was established in the United Kingdom in 1998. They have created many successful video games, including the Fable series of games. In April of 2006 Lionhead Studios was purchased by Microsoft Game Studios. The head of Lionhead Studios is Peter Molyneux.
List of Games Created
Black & White
Black & White 2
Black & White 2:Battle of the Gods
The Movies
The Movies:Stunts & Effects
Fable II Pub Games (supervised, not developed by)
In-Game References
In Fable II, Lionhead made a few references to themselves in the game.
Leo Head is a reference. Leo means Lion.
Lion Head Isle was put in as part of Bloodstone. The centre small island in there is shaped like the logo.
A lion head back tattoo can be found in Fable TLC.
External links