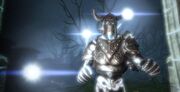 The Hollow Man Suit is found in See the Future DLC. This suit can be obtained once the Hero acquires the second cursed item from Murgo, The Cursed Skull while on The Costume Party quest. The Hollow man suit is found in the Celestial Keep along with the Balverine Suit and the Hobbe Suit. This is the first suit you will receive; you are given it once you agree to help the Cursed Knight. People are scared by this outfit and will run away from you. Your weapon is attached to a round bit on the back.
There's a reason they call them hollow men. You can fit right in them!
Headgear: Hollow Man Suit Helmet
Made out of especially light metal so as not to snap the brittle necks of the undead.
Coat: Hollow Man Suit Body
The ultimate slimming article of clothing. It won't actually make you thin, but everyone will see your ribs.
Hands: Hollow Man Suit Gloves
A cold hand of death isn't quite as cold with these fur-lined gloves. Just don't ask where the fur came from.
Lower Body: Hollow Man Suit Trousers
If your thighs look fat in these, you have some real problems.
Feet: Hollow Man Suit Boots
Step into the shoes of a fleshless, lifeless and soleless corpse. If you notice any squelching, it's probably just the maggots.
---
Community content is available under
CC-BY-SA
unless otherwise noted.