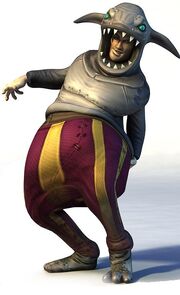 The Hobbe Suit is found in the See the Future downloadable content. You are the same size as normal, your head is in the Hobbe's mouth, and you are incredibly fat in the Hobbe suit. It is found in the Celestial Keep, during the same quest as the Hollow Man Suit and Balverine Suit.
Wearing this should give you some insight into the life of these nasty, brutish and short creatures.
Coat: Hobbe Suit Body
A flattering piece that is sure to make you the envy of almost all foul-smelling beasts.
Feet: Hobbe Boots
Though they are fake and are made from some sort of foam, there is no mistaking the foul odour eminating from these feet.
See Also
Edit
---
Community content is available under
CC-BY-SA
unless otherwise noted.