The Hobbe Caves are a location in Fable, Fable: The Lost Chapters and Fable Anniversary. They can be reached via Greatwood Caves, and are one of many subterranean dwellings inhabited by Hobbes. However this cave is special in that, there is an Old Kingdom artefact hidden deep inside. There are actually several families of Hobbes living in this cave, and they are led by a Water Nymph, who in turn worships the Old Kingdom artefact.
The Caves are divided into six different chambers.
Cave Entrance
Edit
"The cave is dank and cold, but appears to have been lived in recently."

— Map DescriptionThe Cave Entrance is a long, winding tunnel dotted with pools of water and it is heavily guarded. It has three doors, the first door is to the right as you enter, this is the Side Chamber. The second door, to the left further in the cave, is the Cave Larder. The last door at the end of the tunnel at the bottom of the steps leads to the Main Chamber.
Side Chamber
Edit
"The water on the cavern floor is ice cold."

— Map DescriptionThe side Chamber is used to hold prisoners to be taken to the Nymph or to be eaten.
Cave Larder
Edit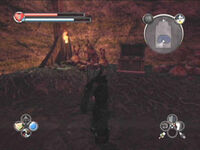 "A putrid smell fills the air. Piles of bodies lie against the wall."

— Map Description
This is where the Hobbes keep some treasure, but it is mainly used for the disposal of dead bodies, that either they have been eating or are awaiting to be offered to the Nymph. It has a Silver Key Chest which contains a Will Master's Elixir.
Main Chamber
Edit
"Anything natural about this cavern has been corrupted by the presence of Hobbes."

— Map DescriptionThe main chamber is the primary dwelling place of the Hobbes. The most important of their treasure is held here, and so it is heavily guarded. There is a large door at the back of the chamber which can only be unlocked with a unique key. The door leads to the Moonlit Tunnel.
Moonlit Tunnel
Edit
"Anything natural about this cavern has been corrupted by the presence of Hobbes."

— Map DescriptionA narrow tunnel with no notable features and eventually leads to the Focus Chamber.
Focus Chamber
Edit
"The chamber has an eerie chill. A strange artefact from a lost age protrudes from the small island."

— Map DescriptionThis is the final chamber of the Hobbe cave. There is a large Old Kingdom artefact in the very centre of the chamber, one of the ancient Focus Sites. The Nymph apparently worships this and sacrifices adventurers (and other passersby) to it. A Silver Key is located in this area in the centre of a ring of mushrooms. A spade is first required to dig it up.
---
Community content is available under
CC-BY-SA
unless otherwise noted.