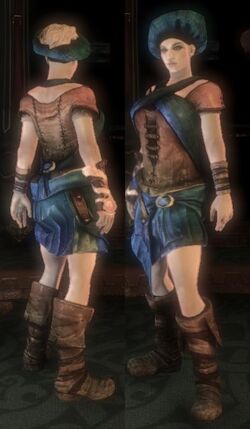 The Highlander Women's Suit is a DLC clothing set included for free in new retail copies of Fable III. It can also be purchased in the LIVE Room of the Sanctuary.
Summon the spirit of the highlands with this new outfit, perfect for charging into battle with a rebellious roar. The outfit comprises a bonnet, bracers, boots, bodice and kilt. These items will be added to your gift queue in the Sanctuary, and will be available when clothes are unlocked in the storyline. Please be aware that retail copies of Fable III contain a code to receive this outfit and you may already own it.
— Description from XBox LIVE Marketplace
The outfit consists of the following items:
Highlander Women's Bonnet
Highlander Women's Bodice
Highlander Women's Bracers
Highlander Women's Kilt
Highlander Women's Boots
---
Community content is available under
CC-BY-SA
unless otherwise noted.