Fable II Limited Collector's Edition

Type
Action RPG
Developer
Lionhead Studios
Publisher
Microsoft Game Studios
Platform
Xbox 360
Release Date
NA: 21 October, 2008
AUS: 23 October, 2008
EU: 24 October, 2008
Fable II Limited Collector's Edition is a pre-order release of Fable II. It included the base game and bonus content. Since February 2014, the in-game bonus content has been available for purchase from the Xbox Live Marketplace for US$1.99/£1.29 as Fable II Bonus Game Content.
Bonus Content
Edit
The Collector's Edition includes:
1 Bonus DVD: Videos, New Making-of Feature, Roaming Hobbe short, Concept art viewer
1 token card for in-game content (downloadable over Xbox LIVE)
1 48 hour LIVE trial card
The Wreckager legendary cutlass weapon
The Hall of the Dead dungeon
The Wreckager
Edit
The Wreckager is obtainable in The Hall of the Dead. To locate it, travel to Bloodstone, go down to the docks and swim until you find a diving spot acting as an entrance to The Hall of the Dead. Dive here and complete the dungeon's trials to achieve the cutlass.
Otherworldly Bonus
Edit
The Otherworldly Bonus is armour and a sword that appears similar to Master Chief's armour and the Sangheili Energy Sword. You obtain Hal's Armour and Sword by opening the chest next Cullis Gate in the Guild Cave.
In order to reach the Hall of the Dead to get The Wreckager and open the chest in the Guild for the Otherworldly Bonus, you must first enter the game code that came with the Limited Collector's Edition. If the code is not entered, the game will be treated as the regular edition of Fable II.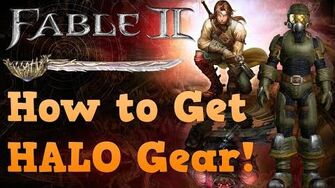 See Also
Edit
Community content is available under
CC-BY-SA
unless otherwise noted.