Deepwood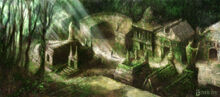 Location Information
Deepwood is a region designed for Fable II, which is filled with enormous trees and Old Kingdom ruins among giant roots. The region didn't make it into the final cut of the game due to lack of potential art support. The region was to be located somewhere between Brightwood and Wraithmarsh.
Deepwood is referenced once in the Fable III DLC Traitor's Keep when visiting one of Godwin Estate's animal exhibits, which apparently contains a red-eyed "Deepwood Devil Hampster."
Deepwood is also referenced in Fable: Blood of Heroes as the home of the witch, Yog. She also mentions that it is next to a stretch of marshes called the Boggins and the town of Brightlodge.