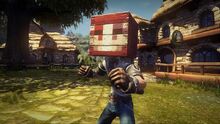 Dave's Hat is a unique hat in Fable Anniversary. It can be downloaded for free from the Xbox Live Marketplace. Once downloaded, it must be purchased from the weapon and clothing shop in Oakvale.
A man called Dave once wandered around Albion with boxes covering his body. One day he was down by the Oakvale docks and, when mistaken for a package, was shipped off to the Northern Wastes never to be heard of again.
Armour Rating: 50
Base Value: 105
Attractiveness: -13
Scariness: -52
Alignment Modifier: 0
This hat is a reference to the game Minecraft, where all characters have square heads.
---
Community content is available under
CC-BY-SA
unless otherwise noted.