Raise a Floppa - The Loop
Play Sound
Bowerstone South is a region in Fable, Fable: The Lost Chapters, and Fable Anniversary. It has an entrance to Bowerstone North and Bowerstone Quay, and is reached from Lookout Point. It also has a tavern, a general store, Clothing and Armour Shop, Weapons Smith, a Barber, a few normal houses, a school (the only one in Albion), and a marital home that is for sale. Also, many chickens roam the area. Most of the little children are living in shed-like houses by themselves. In Fable: The Lost Chapters and Fable Anniversary, there is a quest about one of the children being sick and needing some medicine (Blue Mushrooms). This boy lives near the back of the tavern.
Map Description
[
]
The slums of Bowerstone.
The Town
[
]
Weapons are not allowed within Bowerstone, most likely due to the presence of children there. Upon first entering Bowerstone South, a cutscene plays in which a guard welcomes you and says "Bowerstone is a peaceful town; I may have to confiscate your weapons for now." After the cut-scene, you have no weapons and cannot cast magic of any kind. You still can punch and kick objects, but you will have to face the consequences by paying a fine. However, there is a way to kill the villagers. You can do this by hiring a mercenary to attack a person.
Bowerstone South is referred in-game as the "slums of Bowerstone". A lot of people here are poor, which explains the presence of sheds around town. Also, the residents of Bowerstone South cannot go into Bowerstone North unless a resident from that area invites them.
Tavern Cellar
[
]
Main Article: Tavern Cellar
Bowerstone School
[
]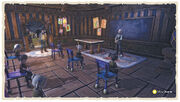 The only known school by the time of Fable: TLC is located in the west area of Bowerstone South. It seems to serve only as a primary school as only young children go there during the day. By the time of the game, the school is passing through hard times as Lady Grey had just sold half the school's library in order to build Bowerstone's Manor, it is up to the player to help them refill the library in the quest Book Collection.
Marital Home
[
]
Trivia
[
]
In Fable Anniversary, the clothing shop no longer has a sign hanging above the door.
It has been stated by Lionhead in the Fable Anniversary Prima Official Game Guide, that the reason why Bowerstone is the only town to confiscate weapons is so the children are not murdered by The Hero.
You can hire mercenaries to come into Bowerstone with you and they'll start killing people if you resist the Guards. If the mercenaries attack children. the children take no damage.
Gallery
[
]
---