Raise a Floppa - The Loop
Play Sound
WARNING: This section or article may contain spoilers!
Bowerstone, the capital city of Albion, has returned once more in Fable III. Since the events of Fable II, the region has undergone an industrial revolution. The city has been split into four parts; Bowerstone Castle, Bowerstone Industrial, Bowerstone Market, and Bowerstone Old Quarter. Situated beneath Old Quarter and Industrial is Understone, an underground district of Bowerstone added by the Understone Quest Pack DLC. East of the city lies Millfields, patrolled by the guards as part of the greater Bowerstone area.
Bowerstone Market
[
]
The market serves the same purpose as in previous iterations of the Fable franchise, retaining much of the same appearance as it did in Fable II, including the iconic clock tower, with the main change being the whole area has acquired a more "built up" appearance. A few of the shops seen in Bowerstone Market circa Fable II have returned, however all have been renamed; for example, the potion shop "Potion in Motion" seen in Fable II - there is a strikingly similar potion shop in the same position now, this time titled "The Magic Bottle". The note-worthy "Pigknight" seen at the entrance to Bowerstone Market has been replaced by a statue of Logan (the "Pigknight" statue appears in Bowerstone Old Quarter now).
Bowerstone Industrial
[
]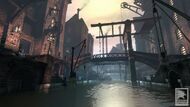 Bowerstone Industrial is a location within Bowerstone. Bowerstone Industrial is situated north of Bowerstone Market, Bowerstone Castle, and Bowerstone Old Quarter and it is Albion's main industrial centre. It is full of crime and poverty, the people are very miserable, and many work in factories owned by Reaver. You can improve the conditions during your rule as King or Queen.
Bowerstone Old Quarter
[
]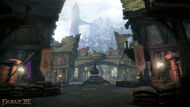 This area of Bowerstone is the site of the Battle of Albion, where the Hero leads his followers against Logan. The Battle causes great damage to the town and the Hero gains the option to restore it to its original state once he or she has become ruler.
Bowerstone Castle
[
]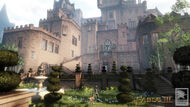 Originally Fairfax Castle, Bowerstone Castle has been renamed following the events of Fable II. It serves as the residence of the monarchy, and has been greatly expanded over the 50 years between Fable II and Fable III. This is where you start the game and where you spend your time while ruling Albion as King or Queen.
Millfields
[
]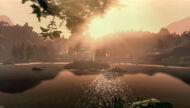 Millfields is the evolution of Fable II's Bower Lake, having been changed much in the last fifty years. It also has expanded on what in Fable II was the Market Road, so the region is much closer to Bowerstone, and is now considered part of the greater Bowerstone area. Page describes the region, specifically the lake, as "the last piece of natural beauty remaining in Bowerstone".
---